The city of Roanoke, TX, got a rather significant shock to the system this weekend.
There was a "kid-friendly" drag event at Anderson Distillery and Grill on the main strip in what is usually a very quiet, very conservative Texas suburb community.
Needless to say, it did not go over well with the local community, especially when alleged ANTIFA members showed up to provide security.
Take Over
Roanoke is a growing city, but it is still a baby, relatively speaking.
There are less than 20,000 residents, with a quant downtown area of shops and restaurants (the 2020 census was just more than 8,000, but the community has grown significantly since then).
On Sunday, the streets are empty until about noon, when locals leave local services and head out for lunch with their families.
That serenity was traded out for a packed Oak Street, full with men making out in the street to make a point and drag queens in skimpy outfits taking $1 bills off children.
Sadly, as you can see in the videos below, that is not an exaggeration…
Another Child Drag Show was hosted in Texas, this time in @CityofRoanokeTX—

Over 20 children were in attendance and multiple teachers.

Here's a recap of the event:

[WARNING] Vulgarity, Sexualization of Minors, and Partial Nudity. pic.twitter.com/BObkygDxrX

— Tayler Hansen (@TaylerUSA) August 29, 2022
At a nearby parking garage, alleged ANTIFA "snipers" were in place until local police arrived to escort them off the private structure.
Sara & I will talk tomorrow about how #Antifa was placed very strategic during the "kid friendly" drag show in @CityofRoanokeTX

Yes, #Antifa was armed like snipers on the 3rd floor of the parking garage. @TaylerUSA will confirm the sighting. @BlazeTV @theblaze @WatchChad pic.twitter.com/SVyY86d4i8

— Kris Cruz 🫡 (@realKrisCruz) August 29, 2022
Few if any of the people attending the show were locals, but they had no problem disrupting the community…
Same mother seen outside the venue with her son, hanging all over him and trying to kiss him while he pulls away.

Sickening. pic.twitter.com/YHq0UeUdIs

— Sara Gonzales (@SaraGonzalesTX) August 29, 2022
There are mixed reports as to how the alleged ANTIFA members came to provide security.
The local scuttlebutt is that the owner hired them, but I also saw a lot of chatter on social media just encouraging them to show up to "protect" the people going to the show.
From what I have been able to gather, chatter started online trying to paint the local community in Roanoke as racist and homophobic.
The group then offered to provide protection to customers attending the drag show, and that offer was apparently accepted.
Andy Ngo, a legitimate ANTIFA expert, tracked the group down to a local chapter of the John Brown Gun Club (Elm Fork)…
Today a group of armed #Antifa members came to Roanoke, TX to support a drag queen event. The local chapter of the John Brown Gun Club, an #Antifa militia linked to domestic terrorism, led the call to direct action. It is headed by Christopher Guillott & Garrett Lee. pic.twitter.com/TC1uAG7Hl8

— Andy Ngô 🏳️‍🌈 (@MrAndyNgo) August 28, 2022
Residents better buckle down, as ownership posted on Facebook that this is the first of what appear to be many future shows…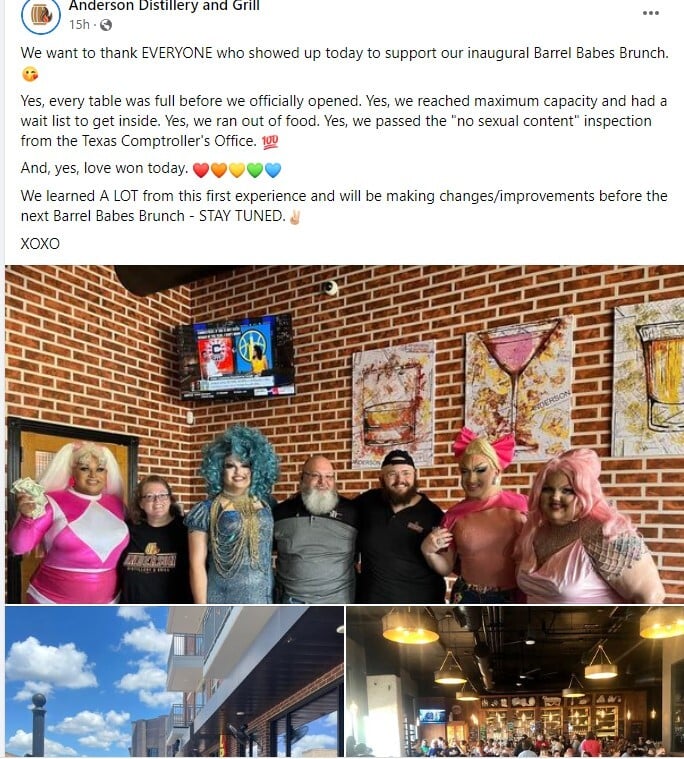 That is all well and good, but unless the local community supports this restaurant, it will never succeed.
Considering the size of the space, it will be an awfully expensive political statement by ownership and not exactly the way to elicit a "welcome" from local community members.
One final note, notice in the post that it says "love won today," yet the local community was intimidated purposely by the alleged ANTIFA members, not to mention how they dumped on the local community, as you heard, in the first video.
That is an awfully strange definition of love.
Source: Breitbart